Current Vacancies at Grant Thornton Trinidad and Tobago
Grant Thornton Trinidad and Tobago - Career Opportunities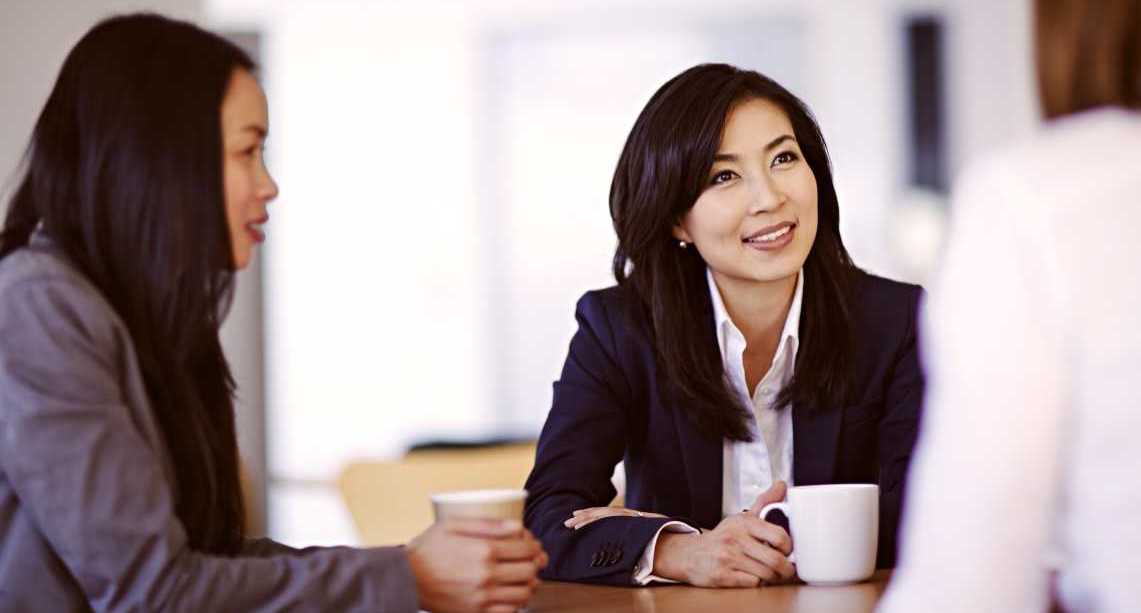 While women now hold more senior positions than ever before, they are climbing at a slower pace than in years past. According to Grant Thornton International Ltd's (GTIL) Women in Business 2023: The push for parity, the overall number of women in senior leadership rose to 32.4% — up just half a percentage point since 2022. At this rate, it will take another 132 years to address the global gender gap.
GTIL's research identifies factors impacting the number of women in senior leadership positions in mid-market organizations today and actions employers can take to support their acceleration. With the benefits of flexible work now clear, and a push for diverse and equitable workplaces coming from global Environmental, Social and Governance (ESG) standards and regulation, organizations across the globe are positioned to achieve better parity — if they prioritize the right strategies.
Gender parity is a business imperative
Gender parity is about more than having more women in senior roles. Having an equitable and inclusive workplace is crucial to attracting and retaining talent — and customers. Echoing findings from GTIL's Women in Business 2022, this year's research highlights the importance of building more inclusive workplaces — both for internal engagement and customer satisfaction.
As businesses recoup skills lost during the Great Resignation, companies must demonstrate the actions they're taking to prioritize diversity, equity and inclusion in order to attract and retain future leaders. An increase in ESG reporting is also pushing organizations to form more diverse leadership teams. Furthermore, organizations who don't make an effort to demonstrate diversity may experience poor ESG ratings — and it may even affect their capital.
"Greater diversity is a positive for businesses — it demonstrates they are ethical and fair, it boosts business performance, and results in better outcomes and decisions. More diversity also encourages a growth mindset — bringing wider perspectives which can spark creativity and create a better way of doing things," said Karitha Ericson, GTIL global leader of Network Capability and Culture. "And if you want to be an attractive employer to good talent, diversity is critical."
Women are taking on new roles
While the percentage of women in senior leadership positions grew incrementally since last year, this year's report shows a significant broadening out of the roles women hold. Particularly, more women are CEOs, managing directors and chief information officers — and their representation in these positions has skyrocketed. In 2019, just 15% of businesses had a female CEO or managing director, and now, that number is 28%. In North America particularly, 39% of businesses have a female CEO or managing director.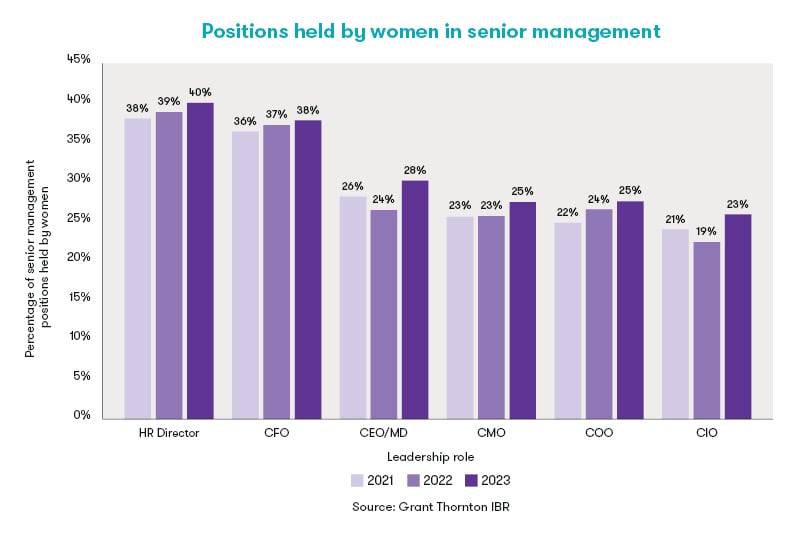 The report also notes that for the first time, all regions surveyed in the report surpassed 30% for the proportion of women in senior management. Yet North America was the only region to experience a dip, from 33% to 31%.
"Companies are committed to gender diversity more now than ever given the research that diverse leadership teams benefit their brand and their financial success," said Katie MacQuivey, Grant Thornton US managing director of Advisory Strategy and Transactions. "While it's encouraging to see some regions have made progress, it's concerning that progress has plateaued and gone backwards in others. Given the complexity of factors that simultaneously accelerate and detract from parity, it's crucial that companies build a pipeline of diverse leadership across all levels and invest in long-term programs to ensure success isn't only focused on a point in time."
Flexible working practices are key to closing the gender gap
This year's research expands on what was found in the 2022 report — flexible working practices are key to achieving gender parity. Post-pandemic working practices shifted, allowing women to work more flexibly and opening opportunities for them to step into senior leadership positions.
GTIL's research found that flexible, hybrid and home-based working models have the highest levels of women in senior leadership roles. In organizations that have adopted a hybrid work model, 34% of senior leaders are women, while in organizations that are fully flexible where staff choose how they work, it's 36%. Just 29% of senior management is female in organizations with predominantly office-based models. The report found that paying careful attention to employees' working styles and adapting approaches also correlates with the highest level of women in senior leadership – 35%.
How your organization can take action toward achieving gender parity
Here are five actions your organization can take to achieve better gender parity in 2023 and beyond:
Adopt a hybrid or flexible approach to create an environment that generates greater diversity among senior leadership teams — especially when paired with a supportive, understanding culture.
Accelerate and closely monitor initiatives designed to encourage greater diversity in senior leadership, including women-only leadership programs.
Provide employee wellbeing and mentoring programs that shepherd women into leadership positions — as well as greater transparency on pathways into those roles.
Before implementing an in-office policy, consider the effect your return-to-office strategy will have on your organization's diversity.
Continue to monitor and refine your flexible working policy to guard against any negative impacts of working from home.
In 2023, organizations are well positioned to push for parity. Many have embraced flexible, hybrid or home-based working models and have embedded leadership programs, often providing mentoring and coaching as part of leadership succession planning. To accelerate progress, organizations should prioritize more of these programs, increase their transparency on leadership pathways and foster a culture that continues to be fully supportive of greater diversity in senior leadership.
For more on the state of gender parity in leadership globally, read GTIL's Women in Business 2023: The push for parity.